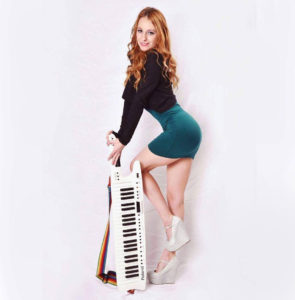 A woman driven by passionate devotion to music, Amanda Darling creates pure magic on the decks. With raw, emotional power, and unrelenting energy onstage, she stands out as a truly unique artist in her field. In addition to being a multi-genre DJ, having created an innovative sound she calls "Electrance", Amanda Darling is integrating a 2nd genre of music called "Future Wave", which takes its inspiration from synth pop of the 1980's.  She enchants audiences with her original tracks and use of live instruments on stage along with her angelic vocals. Having shared the stage with some of the biggest names in the industry, and with 2 Full Length albums now available, Amanda is becoming a well known force in the industry.
Amanda sings on own tracks she has written and produced, and plays the keytar live during her DJ sets. She has completed diverse creative works including an ambient album, Earth Tones (released in 2016), a Trance album, EXIST (Released in 2017) and a Future Wave album coming soon. She has collaborated with Shardad Roahi, one of the most legendary Classical-style composers alive today. Amanda has since become a well known DJ in the Los Angeles area, having performed on the main stage at the top night clubs in California including Avalon Hollywood, Exchange LA and Create. She has also played in Utah, Nevada and Pennsylvania, and internationally in Greece and Korea (ULTRA). She has opened for some of the top names in the industry, including BT, Hardwell, Heatbeat, Alex M.O.R.P.H. and radio mogul, Judge Jules. She has been a regular on Los Angeles FM radio, and has her own monthly podcast called AXION.
With big collaborations under her belt, Amanda Darling is now focused on cultivating her stage show which combines all original visualizers with entrancing music, live instrumentation and overlays of theatrical drama. Amanda Darling's vision is igniting across the USA and the globe, and will soon be coming to city near you!
Experience:
Avalon Hollywood (Main Stage)
ULTRA Music Festival, Korea
Exchange LA, Los Angeles, CA (Main Stage)
Create, Los Angeles, CA
Grand Opening, Club V, Pittsburgh, PA
The Viper Room, Hollywood, CA
The Whiskey a Go Go, Hollywood, CA
Das Energi Festival, Salt Lake City, Utah (Main Stage)
X Night Club, Orange County, CA
The Belasco, Los Angeles, CA
The Artisan, Las Vegas, NV
KING KING, Los Angeles, CA (Former Resident)
Dim Mak Studios, Los Angeles, CA
Spin, San Diego, CA (Former Resident)
Rio Casino, Las Vegas, NV (Resident)
Velvet Jones, Santa Barbara, CA
Florentine Gardens, Hollywood, CA
Electric Vine Music Festival, San Louis Obispo, CA
Circus, Los Angeles, CA
The Vanguard, Hollywood, CA
Burning Man, Black Rock City, NV
333 Live, Los Angeles, CA
Radio:
AXION monthly podcast, www.amandadarling.com
Lost Episode with Victor Dinaire – Radio Show on Di.fm (Guest DJ)
Trance Energy Radio
Orbit Radio www.orbitradio.fm
88.9 FM Los Angeles with Mystic Pete (Repeat guest)
Releases:
Earth Tones (2016)
EXIST (2017)