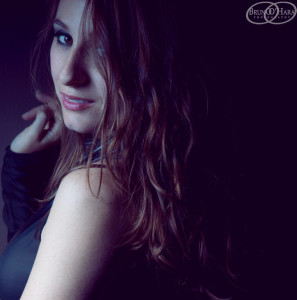 A woman driven by passionate devotion to music, Amanda Darling knows how to work her magic on the decks. With raw, emotional power, and unrelenting energy onstage. In addition to being a multi-genre DJ, creating a unique sound she calls "Electrance" and hints of neo-classical music, she also enchants audiences with her original tracks and mesmerizing voice. Having shared the stage with some of the biggest names in the industry, and with 2 Full Length albums coming out soon, Amanda is ready to erupt into the mainstream.
Amanda Darling's first experience with recording music was in Santiago, Chile in 2008. Amanda was cast on the Latin American TV show called "Todos a Coro", which is a lot like American Idol. The show was broadcast on TVN, one of the major television networks of South America. She was one of four featured soloists in her choir, and recorded and sang live on television every week for several months. Amanda started recording music in Chile during this time as well, and was offered 2 record deals. She was also hired as a backup singer for famous singer Lua de Morais. She was cast in her college's musical theatre production, and they wrote in a leading role just for her to play. She also performed a live jazz concert as lead singer in a full jazz band.
With her passionate devotion to music Amanda sings on own tracks she has written and produced, and spins live during her DJ sets. As Amanda Darling is begins international touring in 2016, she is currently working on producing tracks with collaborators as well as singing and producing for others projects. Diverse creative works including an ambient album soon in 2015. Amanda has since become a well known DJ in the Los Angeles area, having performed almost every weekend for the past 4 years, at some of the top night clubs, raves and festivals in California. She has also played in Utah, Nevada and Pennsylvania. She has shared the stage and opened for some of the top names in the industry, including Hardwell, W & W, Judge Jules, Tydi, Lady Faith and Victor Dinaire. She has been a regular on Los Angeles FM radio, and now has her own monthly podcast called AXION. She is resident DJ at Exchange LA in downtown Los Angeles. She performed on the main stage for the Anime Expo official after party.
Amanda is getting ready to release her 9 song debut Ambient Album this year with all original music and vocals. As she begins again to perform internationally this fall, She is also has 3 tracks done on her first dance album. With big collaborations in the works and an impressive stage show which combines EDM, Neo-classical elements and musical theatre, Amanda Darling's vision is beginning to take light across the USA and the globe.
Experience:
Exchange LA, Los Angeles, CA (Resident)
Dim Mak Studios, Los Angeles, CA (Resident)
Create, Los Angeles, CA
Grand Opening, Club V, Pittsburgh, PA
The Viper Room, Hollywood, CA
Das Energi Festival, Salt Lake City, Utah (Main Stage)
X Night Club, Orange County, CA
The Belasco, Los Angeles, CA
The Artisan, Las Vegas, NV
The Attic, Hollyood, CA
KING KING, Los Angeles, CA (Former Resident)
The Whiskey a Go Go, Hollywood, CA
Ecco (now Cosmo), Hollywood, CA
Spin, San Diego, CA (Former Resident)
Rio Casino, Las Vegas, NV (Resident)
Velvet Jones, Santa Barbara, CA
Florentine Gardens, Hollywood, CA
Electric Vine Music Festival, San Louis Obispo, CA
Circus, Los Angeles, CA (Resident)
The Vanguard, Hollywood, CA
Burning Man, Black Rock City, NV
333 Live, Los Angeles, CA
DUNEZ, Mojave Desert, CA
Boardner's (main stage and patio) Hollywood, CA
The Canyon Inn, Yorba Linda, CA (Resident)
Mission, Culver City, CA
The Bass Bar, Hollywood, CA
Radio:
AXION monthly podcast, www.amandadarling.com
Lost Episode with Victor Dinaire – Radio Show on Di.fm (Guest DJ)
Mixtape Fridays www.orbitradio.fm (Former Weekly Resident)
Favorite Quotations:
"The way is not in the sky. The way is in the heart. "
Buddha
"The thoughts of all one's incarnations are reflected in the eyes. The eyes reveal the whole story of the soul, not only of this life, but of past lives."
"You do not have to leave earth's shores to put on wings; you must learn rather to be happy here and now, under all conditions; and consider others' happiness as part of your own joy."
Yogananda
"Ask, and it shall be given you; seek, and ye shall find; knock, and it shall be opened unto you…"
"The kingdom of heaven lies within you."
Jesus
"Do not be content with showing friendship in words alone, let your heart burn with loving kindness for all who may cross your path."
"All peoples and nations are of one family, the children of one Father, and should be to one another as brothers and sisters."
Bahá'u'lláh
"Sound and light affect our consciousness, for we (like them) are composed of vibrations. Music therefore is more than entertainment, and lighting, more than something to see by. Sound and light actually affect our consciousness, and help direct it toward spirituality, worldliness, or depravity. Be sensitive to the subtle effect of vibrations. Protect yourself from disruptive ones by listening to inspiring music, or by singing (even mentally) songs that are uplifting, and by surrounding yourself with calm, soothing, or brightly cheerful lights and colors."
Swami Kriyananda
"I died as a mineral and became a plant,
I died as a plant and rose to animal,
I died as an animal and I was Man.
Why should I fear? When was I less by dying?"
Rumi
"Dance to the point of exhaustion, as if you were a mountaineer climbing a hill; a sacred mountain. Dance until you are so out of breath that your organism is forced to obtain oxygen some other way, and it is that, in the end, which wil cause you to lose your identity and your relationship with space and time. Dance only to the sound of percussion; repeat the process every day; know that at a certain moment, your eyes will, quite naturally, close, and you will begin to see a light that comes from within; a light that answers your questions and develops hidden powers."
Panto Coelho
"Cherish forever what makes you unique, 'cuz you're really a yawn if it goes."
Bette Midler