I traveled to 5 of the Greek islands this year with my friend, Baxter. Below is our travel log. I wrote it from the 3rd person. Enjoy 🙂
9/10
Amanda arrived at Andy's house before dawn, while the sky was still a shade of dark blue. As he opened the door the two friends shared a greeting.
Amanda brought in her luggage and a gift for Baxter. He opened it and discovered it contained dinosaur toys and a robotic squid, along with a T-rex card with tiny T-rex arms reaching out. He smiled.
Amanda made bagels and scrambled eggs while Andy finished packing.
Once they were ready, the two of them jumped in an Uber and took a swift ride to LAX. It was Andy's first time in an Uber, and the ride ended up being free because of it.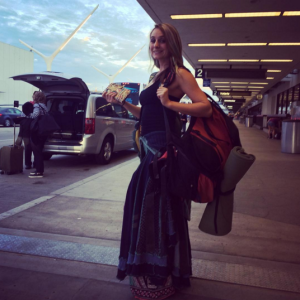 The two travelers took some photos outside of the Air Canada departures sign (the first photos of the journey!) and they were off to check in their luggage and board the plane. Though they were both happy with anticipation, they never could have imagined the adventures that would await them across the globe in Greece.
The two of them felt jubilant as they drifted off into the clouds. Luckily, they had two seats next to each other and one extra seat adjacent which nobody had come to claim. Thus, Amanda was able to sleep. Well, kind of… with her head in the aisle and passengers and flight attendants bumping her constantly, but somehow she still managed to get a few winks in. Before they knew it, they were already landing in Montreal.
The primary language spoken on the plane, and in the Montreal airport, was French, as it is their primary language (and English their secondary). As the two traveling Americans exited the plane, they found an extremely compact area below them filled with people waiting in a spiraling line that filled the entire area.
"Yikes! I don't think I've ever seen an airport so packed," Amanda said. "Do we have to go through that?"
"I think so…" Andy said begrudgingly.
There wasn't anybody around directing the foot traffic, so they assumed it was their only option. They waited in line for close to 45 minutes before reaching the end, still, they were laughing the whole time with glee, so thrilled about our vacation. It wasn't until the very end of the line that they encountered an airport worker available to give them information. They scanned their passports as a tall French Canadian man approached them.
"Ha, ha!" He said. "You're in the wrong line." He seemed annoyed and as he turned up his nose, his face seemed to say, "Silly Americans!!"
He led them to an extremely short line that they were supposed to take in the first place for the connecting flight. They were giggling.
"Oh, well!" Andy said.
"It's kinda funny actually," Amanda said. "He was annoyed with us!"
The two of them had no further problems and enjoyed a delicious lox and bagel and coffee snack before boarding their next flight to Athens, Greece.
"Flying so high, above the world. Never thought I could feel so free!" "As the plane took flight Amanda started singing Starvin Marvin's theme song from South Park. It made Andy laugh.
During the flight the two of them choked down some extremely bland airline food and enjoyed some spectacular views of the sunset and sunrise over unfamiliar landscapes. The anticipation was building. After quite a few hours, the pilot announced (in French first, of course), that they were about to land in Athens.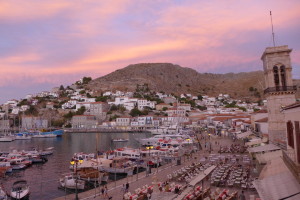 9/11
"Yay!!" The travelers shouted with glee as the plane hit the ground. They were in Greece! It was Amanda's first time, and Andy's second. Immediately their surroundings confirmed they were now some place far away from home. The airport signs were all cobalt blue and white, with exotic letters that seemed vaguely familiar. Immediately Amanda fell in love with the written language.
"Greek! It's so beautiful!" she said.
They moved to the nearby bathroom and put on sun screen, and they were off to catch a bus. They were on a mission to find a ferry to the small and mysterious island of Hydra, a place neither of them had been before. They also had no idea where to find the right boat. After asking a travel agent and losing the piece of paper with the information on it, they boarded a bus and took a ride for about 30 minutes through Athens and the surrounding countryside. Immediately Amanda noted that all the cars in Greece were significantly smaller than the ones in the U.S. and that it had a very different ambiance. Yet, it was interesting to see the mixture of English and Greek letters on all the buildings and signs.
They arrived at the port and went to a nearby travel agent's office. Sitting all over the steps were people with darker skin and dirty clothes, all of them crowding into the travel agency until they were spilling out and in the nearby alley way, eager for a way to charge their phones. One woman sat barefoot in the alley with her baby laying on the ground next to her. It was somewhat shocking. In retrospect, they suspected that they may have been Syrian refugees. They never saw anything else like it during their trip.
During their wait for the ferry, a young Greek boy with an accordion made a haphazard attempt at entertaining Amanda and Andy at the dock. He played his instrument for about 10 seconds and then demanded 5 dollars. It was funny and sad at the same time.
Finally the ferry arrived. It was bright apple green, and said "Hellenic Seaways – Flying Cat" on the side in big white letters. It was a two story high speed boat and the two travelers couldn't wait to get on it. They boarded it and sat down to watch boring debates on the television screens inside. Of course, neither of them could understand a word. It was Greek to them! The journey was enjoyable and relatively short. Before they knew it, they had landed on Hydra.
The island was small and quaint, with high cliffs jetting up from the shore filled with beautiful white houses. No cars were allowed there, only horses and mules. It was like taking a trip back in time 150 years. The travelers were greeted by aggressive locals eager to sell a donkey ride or provide a luggage carrying service. They politely declined; their hotel was only a 2 minute walk away. Andy and Amanda checked in to the Hotel Amaryllis and with a sigh of relief. The hotel was small but cheerful with bright sky blue walls and yellow floral curtains.
After resting for a brief while, they took showers and got ready to go out to dinner. After checking out several of the quaint places for them to dine, a nice restaurant upstairs was recommended to them. It had an absolutely spectacular view of Hydra harbor, and all the plates were a deep blue contrasting white. They enjoyed delicious zucchini fries, but the rest of the meal was disappointing. They wondered if perhaps the "chicken" they had ordered was really sea gull meat. They were so tired, it didn't matter. They just wanted to sleep. So after enjoying a breathtaking sunset, the two of them retired for their first night on the Greek island.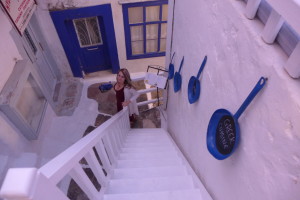 9/12
After a much needed night of rest, Andy and Amanda set out to explore Hydra. As they walked along the quaint cobblestone streets, they saw many cute restaurants bustling with expressive Greek characters talking loudly and using their hands for emphasis. It was a mixture of locals and tourists, and it was obvious who was who. Andy and Amanda decided to dine at a nearby cafe. The man who owned it had recommended some restaurants the night before and been quite helpful. Andy ordered an omelet with mushrooms, cheese and tomato. When it arrived, it had no mushrooms.
"It is better this way," the old man who owned the place said as he delivered the meal himself with pride. They thought it was funny how he decided to edit their omelet, but they knew it was part of the Greek culture. It ended up being one of the best omelets Amanda had ever had.
After brunch the two of them decided to walk to a nearby local beach and go for a swim. It was gorgeous walking by the shore where they discovered ancient canons and a defense system for the island. They walked right through many more restaurants along the way, and finally found a small harbor and then a small pebble beach. Instead of sand, the ground was covered with millions of little stones: black, brown, white and green. It was unlike anything Amanda had ever seen before. It was beautiful. The sea was a fantastic shade of bright turquoise. She couldn't resist going for a dip.
Amanda swam a lot, practicing all 4 strokes and getting in quite a work out. The two travelers crossed the rocks and enjoyed a day in the sun and water. On the other side of some rocks they discovered a small private beach. The only other people sharing it were three of the locals from the local Pirate Bar they had met the night before. As with most Greek people they met, they were quite personable and friendly. One of them said he had been coming to that beach his whole life and had never seen anyone swim as energetically as Amanda had. It was a lot of fun.
On the way back, they stopped at a local jewelry store. The owner was a tall portly man with brown hair. He was interesting and fun to talk to. The two were drawn in and stayed for quite a while examining his wares. He told them that they had many celebrities on the island, that he had sold jewelry to Shakira, Jennifer Lopez, and others. He said that many celebrities like to vacation in Hydra because they don't have paparazzi. Upon finally leaving, Andy and Amanda heard a drunk man singing Greek loudly in the street.
Andy had been wanting to attend a science meeting he had read about on Hydra. By a strange coincidence, they discovered the meeting had taken place the night before they had arrived, at the hotel right next door (literally you could see it from the hotel room window). Though Andy had missed the main meeting, he wasn't a quitter. So he decided to attend the science meeting that afternoon while Amanda felt slightly awkward about crashing it and decided to take a walk back to the Sunset bar they had passed earlier that day and have a delicious glass of sangria instead.
That night the two of them enjoyed dinner at a restaurant in town that had beautiful ambiance and a menu that boasted of the best cuisine from all over the world. Amanda was wary to dine at a place that had so many specialties, but Andy said that it was his favorite kind of restaurant (and that he'd like to open one like that himself one day). Amanda ordered middle eastern falafel and Andy had the pad thai. The vibe of the place was so lovely. About midway through their meal they were greeted by a young, 3 or 4 year old girl with bright blonde hair. She was running around and dancing. Amanda played back with her, dancing in a silly way and making faces. The little girl loved it. Soon enough, Andy joined in, too. She was so happy and adorable. Eventually her mom found her playing with them and was amused. It was a joyful time out.
9/13
The next morning, Andy and Amanda woke up in the beautiful hotel Amaryllis. They set off for breakfast on the harbor. The Greek coffee was amazing! Walking around town, the two noticed an abundance of stray cats living on the narrow hydra streets. Because of the heat and and lazy island lifestyle, most of them appeared dead in the way they sprawled out on the ground without a care in the world while they slept. The cats who had been spayed/neutered each had the top of their ear cut off.
The two of them went to a local pharmacy in search of much needed bug spray. They found the pharmacist was a grumpy thin man, and they attempted to cheer him up by letting him know how much he was helping them.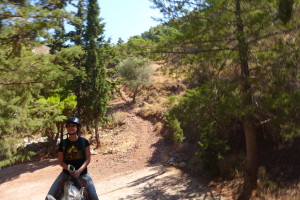 After breakfast the two of them set off to meet Harriet and enjoy a ride on "Harriet's Hydra Horses". Harriet was a pretty young tomboyish woman with sandy blonde hair and a british accent. She welcomed the travelers and they each put on a helmet and met their respective horses. As they made their way up the rocky hills above town, the views were spectacular. Andy's horse had apparently been rescued from an abusive owner, and as a result it had an eating disorder. It attempted to munch on anything within an attainable distance along the way – from trees, to weeds, to bushes. Literally it couldn't help itself. It was rather humorous and made the traveling slightly more challenging, but overall it was a lovely experience. There were many horses on the island, they found. At the top they discovered a large beautiful church with elegant archways. The church was dedicated to Hydra's patron saint of the Christian Orthodox religion. He was from Hydra. There were paintings of the saint along with breathtaking ocean views.
Later that evening the two travelers decided to explore walking to the right of the harbor, the opposite direction they had gone the day before. Along the way they discovered a gigantic statue in honor of the general who had saved Hydra from Turkish invaders over 100 years before. As Amanda and Andy kept walking, a curious thing happened. Most of the stray cats they had met up to this point had pretty much kept to themselves, but suddenly an adorable brown tabby kitten came running toward them. His mane was shaggy yet healthy, and he had alert sage green eyes. The kitten was purring and wanted to play. Never had either of them met such a friendly and loving creature. He was clearly very smart, even let them pick him up and never clawed. He was so gentle. The two wished they could adopt him. Amanda decided to name him "Hippocrates" after the ancient Greek philosopher, the father of medicine.
Reluctantly they continued on without him, encountering several automobiles, which made them feel cheated, as everyone said there were no cars on Hydra. They saw a fire truck, a trash truck, and a couple of other miscellaneous motor vehicles. It didn't matter too much; it was still a majestic walk. Finally they found a harbor/beach with an impressive 3 story house peeking at it from behind. A lovely Greek folk song was playing with a beautiful woman's voice singing. The two of them went and skipped rocks in the sea. On the way home they ended up passing several churches (Greeks are extremely religious, and especially on Hydra, there are a plentitude of churches). There was a rope hanging from the white church with blue trim they found. So they decided to ring the bell. Each of them rang it, until some local person started whistling at them to stop. Oops. They moved along and went back in the direction the hotel.
They stopped to peek into the Maritime museum and a gift store, where they found some very impressive Minoan replicas. The woman working there didn't know they were Minoan, however. The two were ready for some rest and went back to the hotel, stopping to enjoy a delicious souvlaki pita. That night Andy surprised Amanda with candles he had brought. They did a ceremony of gratitude in honor of the powers that be that allowed for their trip to manifest.
9/14
Amanda awoke with a burning desire for a Greek coffee, so she set off for a local cafe by the harbor while Andy packed. It was time to leave Hydra. They agreed to meet at the clock tower in the center of town, which was also a church and museum. They entered the courtyard and discovered a magical gem of a church inside. Everything was plated in shiny metal. The dramatic religious paintings were all framed in offerings of jewelry and flowers. It was different from what they were used to seeing, yet, obviously a great deal of craftsmanship had gone into the creation of it. They admired the church and paid their respects, stopping to pray for a brief while before moving on. It was time to catch a boat to the next phase of the adventure!
The two of them went to the nearest travel agency and inquired about catching the flying dolphin to Crete. The woman behind the counter was extremely direct with her words (as most Greek people are), and told them that all the boats were full, but that there was a very slim chance something would open up. They decided to wait 45 minutes to see if anyone would cancel. As the time drew near for departure, the odds of them getting a boat that day seemed rather slim. Then suddenly, the woman behind the counter said in a booming voice,
"Here are two tickets. Come get them."
The travelers jumped up, elated and surprised at their luck. Andy purchased the tickets and the two of them raced off to grab their luggage. They managed to board the ferry in the nick of time, and they were off, back to Athens.
Amanda and Andy arrived late in the day and caught the same bus back to the airport from whence they came. By the time they were back in Athens, it was night. The two of them wandered around the airport in search of some food that would be both healthy and not an extravagant price. It seemed impossible to find. They settled on a smoothie and a fresh juice, respectively. They had a couple of hours to kill before boarding a flight to Crete. Amanda caught a glimpse of a sign upstairs that said "prayer room". Intrigued, she invited Andy to join her in exploring what might be. Along the way they found a museum.
The small museum was complied of artifacts which had been found during the excavation of the grounds beneath the airport before building. There were many vases and cooking pans, some of them painted quite elegantly with Greek pottery themes of every day life and mythology of those times. It was fascinating to learn about how these ancient people lived. It took Amanda to another place.
They continued on in search of the prayer room and quickly found it.
The official prayer room was a non-denominational empty room with carpet and benches, which they found interesting and humorous. Next to it, though, they discovered something they never would have imagined. A door led into a small room painted on every side with magnificent Greek Orthodox paintings of Christ and his story. The top of the ceiling even had a picture of Jesus in the clouds. There were altars and candles, pictures of saints with their heads framed in the characteristic metals used in that religion. The two of them once again paid their respects and did a prayer of thanks and protection on their journey.
They boarded the flight and within an hour (during all of which Amanda was sleeping), they arrived on Crete.
They exited the plane and met a friendly dog and a taxi driver who offered to take them to a nearby hotel where they could find a place to stay for the night. He recommended the Hotel Sofia, so they agreed and set off. Unfortunately, they found it was fully booked upon their arrival (it was around 1am), so the cab driver suggested the Hotel Evans instead, named after the famous archaeologist who had first discovered the Ancient Minoan culture. The two weary travelers were happy to find the Evans would take them in. The room was humble but acceptable. They covered themselves in bug spray and went to asleep.
9/15
They awoke and enjoyed coffee and cookies on the house, out on the patio. Amanda brought out the printed packet of information she had printed months before, and read aloud about the ancient Minoan culture. They were already eager to learn more about it.
Andy set off across the street and found a local supermarket.
"You have to check this out!" he said.
The two of them explored the foreign market and all of its quirks. They took pictures with the gargantuan bottles of olive oil and the old school grain display in the center of the aisles. They purchased a few snacks and decided to catch the bus. They were off on the next leg of their adventure!
They discovered a huge statue of Hippocrates, which they found endearing, especially as it reminded them of their favorite cat on Hydra. They continued on and caught a bus into the center of town, near the old harbor. There they explored the souvenir shops and found many interesting statues and replicas of something called the "Phaistos Disk". Both of them were infatuated with it already, though they had no idea what it was. A variety of stamped images and letters spiraling out from the center of a clay disk sitting on a thin long metal skewer. None of the symbols made clear sense, but it was obviously saying something. They longed to know more.
They walked into the center of the local restaurants and found an impressive fountain from medieval times with gaudy lion heads spouting water into a large stone basin at the bottom. They found an inviting restaurant nearby with an array of garden plants hanging from the walls and in pots all over the ground. They sat down and enjoyed a delicious Minoan style salad, with lentils, chick peas, green onion and olive oil. For dessert, the waiter brought two small glasses of a pink colored liquid, and a bowl of bright, perfectly ripe fruit. They were delighted by the restaurant's generosity and tried the beverage. It tasted like ambrosia, the nectar of the Gods! They learned the drink was called rose raki. Raki was the local drink of Crete. They loved it. Amanda decided to buy a bottle of it to drink later. They tried the plain raki (also on the house) and it wasn't nearly as good. It was a clear, poignant liquid that tasted of hard liquor, similar to vodka, but probably distilled from grapes. At any rate, it was an experience.They thanked the waiter and, satisfied, they set off.
They went down to the old harbor and viewed a grand medieval fortress there. It was so big! It had stood the test of time fairly well. It looked so interesting, yet not out of place, amidst many modern buildings and boats. Andy stopped to pose with a statue of three dolphins. They were given advice by the local friendly man who owned the fish tavern. Though Amanda caught a glimpse of him picking his nose just before he invited them to dine, he was quite helpful.
"I always dream of going to the United States!" he said. He gave them instructions on where to go to find a hotel. Most of the ones he recommended were booked. So they decided to stay another night at Hotel Sofia and utilize their time by renting a car. They compared prices and found a place that was giving a pretty good deal. Andy stepped inside and handled the business end while Amanda bought a few souvenirs, including a statue of Artemis, her favorite Greek Goddess.
They got inside the car and drove it back to the hotel. Amanda was surprised that she ended up driving on the tiny chaotic Greek roads which had obviously been created before the time of cars. At any rate, they puttered along in the shitty Renoe, which had a manual transmission that was nearly impossible to shift and was falling apart (literally). By the grace of God (or, Goddess), they managed to find their way back to the hotel Sofia and parked right out front.
That night they walked into Heraklion town and found a seafood restaurant. They ordered Greek salad, Halibut, fried zucchini, wine, and had delicious bread with olive oil. It was a delightful meal. They fed the Halibut skin to a local stray cat which had one eye missing. Then, they went back to their hotel and slept, covered in bug spray, trying to avoid being eaten alive by mosquitos.
9/16
The next morning they awoke and did some exercises in the room. The room had a lovely view of a giant tree and courtyard with a big bird nesting at the top. After morning prayer and meditation, they enjoyed their complimentary breakfast by the pool, and packed up to leave. They spent some time on the computer researching where to go next, and decided on Balos Beach. So they booked a night at Balos Beach hotel (which they assumed was right on the Beach itself), and they set off in their silly little car.
The archaeological museum of Crete was highly recommended and it was on their to-do list. They purchased admission and went inside. What a spectacle! Within the museum walls they discovered a world of wonder; a time long past. Amanda had never seen anything so ancient. It was completely fascinating to her. She wanted to read every single description on the museum walls. Apparently these artifacts were made by the Ancient Minoans. What kind of people could have made such interesting art? Simplistic yet graceful faces carved in stone with precision. Figures of stylistic people standing or sitting on a bench. There artifacts dated back over 3,500 years, it said. Amanda tried to wrap her head around that concept.
They found many exquisite works of art that would rival anything available today. Funny clay pitchers made to look like lizards or other animals. Beautiful pottery made of carved stone. How long it must have taken to make, they thought. How could they have gotten it so perfectly symmetrical? It was mysterious and alluring. The two of them couldn't get enough of the Minoan art, which was so detailed and elegant. Even the stamps they used, though tiny, were very detailed. It seemed their culture valued women and animals highly. They saw gigantic double-sided axes standing over 10 feet tall, statues of Goddesses, some of them with their hands up in a position of reverence, and some of them covered in snakes with their arms raised in the air, showing their power. It was so unlike anything they had ever seen; so unique. There was pottery ranging in size from minuscule to enormous, usually painted with stylistic designs or maritime scenes from nature. They saw a necklace charm of two bees facing each other. The detail and the craftsmanship would certainly rival or top anything made currently. It was absolutely gorgeous.
Finally they were able to lay their eyes on the most coveted of all the artifacts: the mysterious Phaistos Disk itself. It was surrounded in a glass case, but there it was, in all its glory. Truly unique and mystical in appearance, the two of them longed to know what it said. To this day nobody has been able to decipher the script that it contains, adding to the intrigue. Amanda wanted to get a picture of Andy pretending to bite it like a cookie, but they were swiftly informed that no posing was allowed with the artifacts. They found that interesting, but upon later reflection, it made sense. A degree of reverence was appropriate for these incredible works of art. They also saw all of the most famous original Minoan paintings: The dolphins, the bull leaper, the three ladies in blue. Most of the paintings depicted men having red skin and women having white. The women of that time wore extravagant gowns that went all the way to the floor, with shoulder pads with nothing covering the chest area, leaving their breasts exposed. Somehow, it was stunning. The men were always depicted helping or serving the women, and treating them with respect. Amanda fell in love with the culture completely.
They explored for as long as they were able, many hours on end, and had to eventually increase their pace to get through the museum in time. As the displays went on, they showed later works that included the Mycenean civilization and eventually the integration of mainland Greek and Roman culture. It was curious to see that instead of the quality and the vibration of the art increasing over time, it actually degenerated. The later statues and pottery, though still lovely, couldn't hold a candle to the works of the Ancient Minoans. The disappearance of the Minoan culture remains a mystery, but many scholars think it may have been caused by an ancient volcanic eruption on the island.
They decided the car was not acceptable, so they took it back and traded it in for a nice little Hyundai.
Driving across Crete was an interesting experience. The speed limits there are much lower. Hence, getting from Heraklion to Kissamos took several hours. The two travelers stopped to dine in Kissamos and enjoyed pizza and wine. Even for a "quick" meal, in Greece, it takes hours. They stopped at a gas station along the way and Amanda bought an herbal tea called "The Love Herb" or "Dittany of Crete". The Greeks will never bring your your bill. In fact, usually you have to hunt them down to get it! They accepted that fact and went with it, but it caused them to check into their hotel quite late, around 1am.
Upon approaching they discovered that the hotel was picturesque. With gardens, courtyards, arches, and smooth cream colored walls. Andy was shown to the room but asked for a better one, so they ended up getting the best room in the entire place for the same price! The room had 5 beds, two large rooms, a bathtub (a rarity on the Greek islands), a small kitchenette and a large balcony complete with a patio containing a table and chairs, a mosaic tile floor and a gorgeous view of the pool and the ocean beyond it. Andy and Amanda were very happy to be there. They found their towels had been made into the shape of a boat, the sun and waves on the biggest bed. Andy said he couldn't tell what it was and that it could be more exciting. So Amanda transformed the sun and waves into a giant sea creature that was taking over the boat. This amused them both and they shared a good laugh. There were no blankets to be found in the room, but there were many sheets (5 to be exact), so the two of them came up with the idea that they should dress up as ancient Greeks and have a symposium in their fancy hotel room.
They went outside and wrestled with a surprisingly strong bush to retrieve branches to make wreaths. They put the wreaths on their heads and wrapped themselves in white sheets. Amanda set out her two statues of Artemis in each room, respectively, and adorned them with shells, flowers, and jewelry. Andy added the candles he brought. The main shrine ended up looking quite impressive. They set out a glass of water for the Goddess Artemis, and sat down to enjoy Dictamus (Dittany) tea and rose raki by candle light. They summoned the Goddess and prayed to her, giving thanks for the animals and plants of the Earth (of course, neither of them were literally worshiping an idol, but using the image of a female Goddess as a representation of the God energy). It was a transformative experience and it left them feeling euphoric. They sat on the patio outside and enjoyed the sea breeze before going to sleep.
9/17
The next morning, they awoke with somewhat of a hangover from the extreme jubilance of the night before. They went outside and snapped some photos in Greek attire, and then attempted to have breakfast, but it was not complimentary. So being in a somewhat grumpy mood for various reasons, Amanda trudged off and ordered a Greek coffee, and they worked on finding a hotel for the next night, and tried to decide what they would do. They were both feeling a bit frustrated, but they figured it out. They booked a room that said it was geographically near Elafonissi beach, a beautiful beach on the south side of the island rumored to have pink sand. They went back to their room and enjoyed a ceremonial bath before a late check out.
The two travelers continued on toward Balos Beach, which they discovered was actually several miles from their hotel. They had to take a dirt road overlooking a cliff to the sea in order to get there. Along the way, they were greeted by bearded goats that took refuge on the surrounding cliffs. Clearly they were accustomed to being fed, as they were not afraid of humans. To the contrary, some of them were laying right in the middle of the road! They parked and went to connect with them, remembering Artemis's energy and our vow we had made the night before to protect the plants and animals of the Earth. After having some fun feeding them a granola bar, they continued on. By now Amanda was getting hungry, so they stopped at the shack at the top of the hill which boasted of having the "World's Best Greek Salad". Indeed, it was! The restaurant was memorable in a bizarre way, with goat skulls hanging from the walls.
They hiked down 2 KM to Balos Beach, which turned out to be quite a hike, though it proved to be totally worth it. Amanda would never forget that primary glimpse of the seaside paradise as she peeked down the cliffs for the first time. The beach was covered in white and pink sand, with teal shallow water as far as the eye could see. There was a large rock island jetting out in the near distance, looming. There were umbrellas lining the shore with seats for the visitors to enjoy (for a fee, of course). The two travelers each went swimming in the luke-warm refreshing water and took in the incredible sunset. On the way back, they discussed how the ancient Minoans must have also known about this beach, and what life would have been like back then. They spoke of their desire to search for ancient Minoan artifacts. They got into their little Hyundai which they had lovingly named, "song" and took off to head down to Elafonissi for the night.
The roads in Greece are not clearly marked (in English or Greek), and the travelers had to find their way in the dark, literally. After getting lost several times, they were beginning to get frustrated. The map was hard to understand. Andy stopped at a local Greek house and asked a family of strangers to explain the way to Elafonissi. Apparently they didn't speak English at all, and were not of much help, though they tried. The two friends helped each other to overcome this obstacle and eventually found the right road.
It was a winding, narrow paved road that went through the hills crossing the island from North to South. Along the way they encountered an old tunnel, several one-way areas, innumerable olive trees, and parts of the road that seemed to end in driveways. They were keeping an eye out for a turn which they never saw, and before they knew it, they had gone too far. Andy stopped to ask a local man sitting outside of a tavern where they were.
"You've gone too far!" He said. "You're at Elafonissi beach already!"
"But what about our hotel?" Andy asked.
"You would need a four wheel drive off-roading vehicle to go from here to your hotel! There is no paved road leading there. It would take hours."
So they learned they had been misled by the hotel's advertisement stating that the hotel was near Elafonissi beach and decided to try and find some place to stay nearby.
"Try that tavern," the man said.
The travelers went to the tavern and learned it had no vacancy. The inn keeper claimed there was "No place in town" to stay that night, but after much pleading, they confessed that perhaps the local tavern "Sun set" would have something available.
So the two went across the way and met a woman who couldn't have been over 5 feet tall. She had a shrill, shrieking voice and spoke barely any English. She was yelling in her heavy Greek accent, saying she had a room but it was 250 Euro per night. Andy assumed she meant 25, but perhaps was still not accustomed to using the Euro instead of Drakmas. At any rate, she gave them a room and they were happy.
It was a small place with wind screeching through the gap in the doorway, a hissing toilet, and two small beds with one window (with no screen). They didn't mind, they were overjoyed to not be sleeping in the car. Andy managed to repair the room and after coating their entire bodies with bug spray, they stayed up all night talking.
They spoke of their pasts, their family histories. They reveled their innermost thoughts, dreams, wishes and fears. It was a wonderful conversation that kept them up well past 4 AM, but it was worth it. Eventually, they agreed to go to sleep, though they easily could have kept talking all night.
9/18
Andrew and Amanda woke up to a gorgeous view of the Mediterranean Sea and the local monastery. They had a delicious breakfast of home made omelet with potato in it and Greek coffee for Amanda, of course. They could hear the old inn keeper lady screeching at the top of her lungs at her husband (although, of course, it was impossible to know what exactly she was saying). She boasted of her shell collection she collected herself, which was hanging from the walls of the tavern on a large fish net. Indeed, it was impressive! Finally, Andy and Amanda departed and drove to Elafonissi, which was another breathtakingly gorgeous beach complete with straw umbrellas and two islands within visible distance. The light blue water was sparkling in contrast with patches of pink sprinkled over the beige sand.
Elafonissi island was easily accessible by walking through shin-length shallow water. Of particular interest was Artemis island, a few hundred meters off. Amanda, having a particular affinity toward the Goddess, decided to swim over to it and explore.
It was farther than it seemed! The swim took about 15 minutes each way. In spite of Amanda's swimming skills, it was slightly challenging. Upon reaching the island, Amanda discovered that it was covered with spiky rocks, tall flowers with round balls at the end, salt deposits and mysterious purple powder. She paid her respects and knelt in prayer. After walking the whole island barefoot (a painful task!) in search of an ancient shrine to Artemis rumored to be there, she gave up the search and decided to set off back for Elafonissi. As she was just about to dive back into the tepid water, she glanced over and saw what appeared to be an illusion or a mirage. A beautiful young maiden with long black, wavy hair was splashing and laughing happily on the shore of the tiny island. Even more astounding (for hardly anyone seemed able to make the swim, and Amanda had been alone this whole time), was that she was completely nude! Amanda thought it must have been the Goddess herself! Upon closer examination, she realized the young woman was actually wearing a nude colored bikini. They exchanged a smile, and Amanda dove into the sea and swam back to the larger island.
Once more on the main land, it was getting close to sunset. Andy and Amanda sat for a guided meditation focusing on colors and chakra work. During this time, several new mosquito bites were attained. They got into the car and set off for their next destination: the small country town of Vamos. The drive was relatively smooth and easy, but it was getting very late by the time they got near the town and they feared no restaurant would be open for them to eat dinner. So, they took an exit that seemed to be a large town on the way. After exiting the freeway they kept driving and driving for over 10 minutes down a long road which contained nothing but car dealerships. There was no food in sight! They began to get discouraged, when thankfully they found a mall with one restaurant still open. It was the first restaurant they had been to where none of the menu items were listed in English.
A friendly, curvaceous young woman with black hair and a big smile assisted them in ordering. Amanda had a Greek salad, and Andy had a chicken souvlaki pita. The young lady who was helping them had such a bubbly personality that was overflowing with joy. She kept stopping by the table and cracking jokes. Apparently it was her first day on the job. She came over at one point and started singing American songs with Amanda, drawing the attention of everyone on the patio. It was a magic moment.
After a satisfying dinner, Andy and Amanda finished their trek to Vamos and checked into an inn that was recommended to them. The next day they would be taking a cooking class nearby. It was a charming place. They had to meet a man at the local tavern in order to get the key. Upon entering the cabin they discovered a complimentary bottle of the local raki and took shots by the fireplace. They discovered a bed on a raised platform to the left. Amanda promptly passed out while Trance music was playing in the background. The melodies welcomed her to sleep as if she was listening to a distant lullaby.
In the middle of the night, she woke up and, forgetting she was on a raised platform with a balcony, jetted out of bed and hit herself pretty hard in the ribs, then, writhing in pain, fell down and rolled on the floor.
9/19
The next morning, Andy performed hypnosis on Amanda and she underwent a past life regression, first revisiting herself as a baby and then as an exotic dancer (playing in the crib and on the wooden pole on the platform, respectively).
Next, the two had brunch at Tavern Bloumosifi. They enjoyed delicious Cretan crumble pasta with eggplant and Greek yogurt with rose sauce as their complimentary dessert. They attempted to choke down their raki gracefully, though it tasted similar to rubbing alcohol. They met several animal (and human) friends during their meal; a pair of brightly colored parrots, a cute puppy, a kitten with a black mask on its face, and a traveling family from New York/Germany with a blonde haired toddler. Amanda and Andy checked out and loaded up their stuff into the car and decided to go on, what was supposed to be, a short walk through town before their cooking lesson. The path through the town center appeared to be a simple one according to the map, but Artemis had other plans for our heroes. Somehow they became very lost and were led on a beautiful diversion through old town. After asking for help several times and still being lost, they asked a local Greek woman and eventually found the Fabrica, an old olive oil mill where the cooking class was being held. They arrived late, and walked in to find the cooking teacher was already talking to the class. She was a robust Cretan lady who clearly enjoyed her own cooking. They learned about the native herbs of Crete, including Dittany (Dittanos), the "love" herb or herb of the Gods, which only grows on distant hilltops and is extremely hard to acquire. Thus, you must really love someone if you're willing to go harvest it for them! They began cooking, and Andy volunteered first, and began kneading the filo dough with his bare hands. Not surprisingly, the teacher actually added raki to the dough itself! What a delicious meal! They made zucchini/herb fritters, goat cheese pies, lamb & veggie stew (though Amanda had a vegetarian version), Greek salad (of course), stuffed grape leaves, enjoyed it all with white wine and ended the meal with a weird gelatin-style fruit cake type of dessert that contained a lot of nutmeg.
At the cooking class they met and befriended a British couple and their elderly father, who claimed never to have cooked anything prior in his life. He periodically cracked jokes in his thick British accent throughout the evening. Amanda and Andy also befriended a newlywed American couple who happened to be from a nearby place in the United States (in Long Beach, of all places). Andy had an adventure on his way to the bathroom, where he met a dog, a cat, and took pictures of the unique old town during sunset. Later, Amanda had her own adventure where she befriended a calico cat.
After dinner, the travelers got in the car and set off for Heraklion, but didn't realize they were low on gas, and by now it was getting late (by Greek standards). Not knowing the area very well, they began to get a little nervous as they suddenly found themselves on empty and no gas stations in sight. Finally, they found a shell station that they hoped would be open, but to no avail. Having to pee, Amanda walked alongside the gas station and discovered an unexpected treasure. A lovely courtyard and a little domed church built of stone, unlocked. They ventured inside and inspected the area by flashlight. It was quite ornate! Truly it was an amazing find. The intricate artistry and wood carvings were magnificent. The two of them knelt in prayer and asked for safe passage to a nearby gas station. It was either that, or they would face sleeping in the small car until they could get help in the daylight.
Luckily, their prayers were answered and they found an open one at the next exit! They were overjoyed! They realized it was simply a gift from God, that they had been led on such a diversion. With huge smiles on their faces the travelers refilled the tank and had ice cream sandwiches
They completed their journey and arrived safely at the Hotel Sofia, where they were given the exact same room they had stayed in before. Until this point, it was a mystery as to how and why they continued to get attacked by mosquitos each night in their sleep, even after applying generous amounts of bug spray before going to bed. Amanda read the label and figured out that they had to re-apply every 4 hours. So, they did, and from that night on, the mosquitos were kinder.
9/20
Andy and Amanda awoke at the Hotel Sofia and drove to the ancient ruins of Knossos. The ruins were once a great Minoan palace over 3,000 years ago. They spent several hours exploring the area, coming up with their own deductions about the place. They found 3 large holes in the ground. The info board said they were used as religious waste pits, but Amanda and Andy saw at the very bottom there were stairs and little storage/seating areas. According to the information posted, this was remaining from an even earlier version of the palace that had been built there before, but the travelers doubted it. They pondered its significance and thought perhaps they were once prisons, or a place where they could publicly execute people with the use of wild animals. At any rate, there is not enough conclusive evidence for anyone to know for sure, so their conjecture may have been as good as any.
At its peak, the palace had various intricate parts ranging from 3 to 5 stories tall. In most cases, they had all collapsed, but they could imagine the grandure. This ancient civilization must have been extremely intelligent and advanced. Huge red cylindrical pillars, gigantic storage vases used for olive oil, and even a wide, slanted indentation in the wall which they thought at one time must have been a waterfall. They also found areas for water to beautifully cascade down alongside the stone stairwells, and would collect into cisterns and ponds at the bottom. They found these among the archaic dry stones. A lot of bizarre looking snails with long white shells were all over the walls. They also found large rectangular indentations in the walls and thought they must have been used for lighting with olive oil lamps (and it turns out they were right). Some scholars (such as Evans, the first to excavate the area over 80 years ago) have connected this culture with the myth of King Minos from Homer's epic poetry, for he told of a great maze that was guarded by a minotaur. I could see why! There were so many rooms, and they did seem to be quite confusing to navigate. After a couple of hours of vigorous exploring, they needed a pit stop: coffee and rest room break.
There were beautiful peacocks by the bathrooms. After stopping for a while and attempting to feed them pumpkin seeds, the two travelers were pestered by a persistent older male tour guide who was rather short in stature. He just wouldn't give up on trying to sell them the guided tour! Finally, they gave in when the tour guide gave them a great deal. He turned out to be quite informative. From him, they learned that the Ancient Minoans were respectful toward women, had respect for nature, were peaceful, they didn't have slaves, and they weren't afraid of their own people, thus their palaces had no fortifications. They lived in fertile areas and in those times, it is estimated that the population of Crete was twice what it is today, and also that they received about 4 times the amount of annual rain fall.
One highlight was being able to view the "Queen's room" (some historians believe the Minoans were a Mariarchal society), which had spectacular flowers and dolphins painted on the walls, and also the Queen's throne room, which had griffons and monkeys painted among flowers and a carved stone throne upon which the Queen (or King) must have sat at one time, with stone offering bowls in front of it. Amanda's favorite part was the theatre, where there were stairs on all sides and on the stage they once had women who would perform religious dances and spiritual sacrifices. Amanda was able to dance in the very theatre where the Minoans had danced over 3,000 years before. It was a surreal moment for her, and one she will never forget!
After a full day of pretending to be archaeologists, the travelers decided to continue on their journey and visit the aquarium. They went to the Cretaquarium, rumored to be the greatest aquarium in all the Mediterranean. There was a giant fake octopus guarding the entrance. Amanda was horrified at the sight of the gigantic sharks inside which had demonic looks on their faces. She thought back to a few days prior when she had swam all by herself out to Artemis island. Thank Goddess she hadn't encountered anything this terrifying! They also saw creepy eels, giant clam shells, sea horses, lobsters, a sun fish carcass, and many beautiful, brightly colored exotic fish. At the end they watched a nature show in Greek and played on the orange star fish chairs. To wrap up their fun day, they took pictures in the fish cut-outs, where you can peek your head through and make silly faces.
By this time, they were rather tired and headed back to Hotel Sofia, but they were in the mood for pizza. They found a pizza place called "Dennis", and it was some of the best pizza and wine they had ever had. Afterward, they went to sleep.
9/21
Andy and Amanda got up and drove to the FORTH Science Institute. It was a cloudy/stormy day. The institute was a modern take on Greco architecture, with a beautiful view of surrounding Greek hills and the sea. Andy received a tour of the Tavernakis lab from a woman named Maria. He found an ancient Tritech needle holder, lots of fancy microscope equipment, and DNA sequencers. At the institute, aside from research, they also manufacture prokins for sale.
Meanwhile, Amanda explored the extensive collection of reproduced Minoan art downstairs by flashlight (a light switch couldn't be found). It added to the feeling that she was making an archaeological discovery. They provided more evidence of female equality and respect in Minoan culture.
On the way out, they decided to stop at a huge super-store called "MACRO", with a nearly impossible to find entrance. It smelled really bad inside, and the duo were not impressed, but they did manage to buy some Greek plant seeds (tomatoes, dill, mint and rosemary) and olives to take back home. They drove back to Heraklion and revisited their favorite statue of Hippocrates.
Next, they drove to the city center and checked into the Olympic Hotel, where they had a penthouse suite complete with a bathtub (something nearly impossible to find in Greece). It was still stormy, and the sea view from the rooftop was breathtaking. The car rental guy came and took back the car. Then they went on a moonlit walk in the rain and bought a purple umbrella (of course, as soon as they bought it, the rain stopped). They purchased a lot of awesome Cretan souvenirs and found their way to a restaurant that had been recommended to them, called "Hippokamos", or, "The Seahorse". They had delicious stuffed cheese and shrimp potatoes covered in tomato sauce and yellow seafood risotto. Their waiter, Emmanuel, was quite a character, and insisted they take a picture of his shirt. Chocolate cake and lemon cake were served as a complimentary dessert along with raki (of course).
That night the Artemis ritual was revisited, this time with more rose raki and a bath, illuminated softly by candle light.
9/22
They got up early, had breakfast and caught a cab to the high speed 4 boat to Mykonos. Along they way, they stopped at Santorini, iOS, and Paros. Finally, they arrived in Mykonos! They met a girl named Maria at the dock, she offered them a lovely 2 bedroom apartment for the week, in the center of town and for an affordable price. After dropping off their stuff, the travelers admired the local wind mills and inquired at local cafes about doing DJ gigs. At the juice place, they played with a white speckled pigeon and fed it peanuts. They befriended two female travelers from the United States: Leona and Nadia London. They asked around and learned they had just missed the "busy season" where they needed EDM DJs. Overjoyed to find the Pioneer CDJs she was accustomed to, Amanda played an impromptu DJ set. It was a lot of fun and a thrilling experience. Afterward, they were tired and went home for some much needed rest.
9/23
Amanda and Andy woke up and went to breakfast at an all white outdoor cinema, where two dogs were playing and chasing each other. Next, they explored the famous wind mills and decided to relax at a beach that was walking distance. They enjoyed the radiant sunset and took turns checking out a pretty white hotel by the sea shore. The, they got dressed up. Amanda wore a long, navy blue dress with the torso cut out, and Andy wore a dress shirt of blue and turquoise. They went out to dinner … To be continued.
Changing seasons
October 12, 2015
So much has happened! I don't know where to begin. I've been busy with wonderful music projects, settling into my country home, and taking time to develop myself physically, mentally and spiritually. I have been spending a lot of time at the gym, composing music, meditating and exploring nature.
Fall is my favorite time of year, and it is symbolic of change. I've been adjusting to many changes in my life. Aside from my big move to a house in the country, I'm working now with a famous classical-style composer, and several other well known EDM producers. I have several dance tracks done now that have not yet been released… so it's the calm before the storm, so to speak. That's why I have shifted my focus from live shows to studio time. This step was hard for me (as I'm addicted to live performances!), but I realize that using my skills for composition and song writing will be much more beneficial in the long run. I can't wait to share my new tracks with you! I am singing on most of them and also produced or co-produced all of them. Don't worry! I will continue to perform live whenever I am able. I have a show at the Belasco in Los Angeles on October 30th, and in Hawaii November 7th. Please join!
Aside from that, I went on a 3 week vacation in Greece, which was life changing. I was able to connect on a deep level with the mythology and ancient culture of the country. I was fascinated to learn about the ancient Minoans and relax by the sea. I even swam to Artemis island to pay my respects to the Goddess. I will be posting a video of my adventure soon on my youtube channel. I had been working hard for many years without a real vacation, and especially after the disappointment from last year (read my blog below entitled "Unexpected"… about my trip to England) it meant a lot to have a break. Now I feel totally refreshed, energized and ready to march onward! Coming back to the United States was also a transformational time for me, as I realized how much I truly love my home. I got a chance to ride horses with my kind neighbors and hike the Pacific crest trail (which is in my backyard). I felt so loved. It made me realize that although the Greek islands are breathtaking, my home in Agua Dulce is just as beautiful and charming in its own way.
There are always bumps in the road and I've had my fair share of them. I am working on getting 2 of my original tracks recorded with full orchestra. For the moment, the project has come to a crashing halt due to circumstances beyond my control, but there is hope. In moments like these, I feel down… and then the light always come shining on me in a different way. I have so much faith, and I trust in what's coming. I have met such amazing people recently, heroes of mine, and even gotten to collaborate with several of them. I feel so blessed. I feel it's a sign that I'm on the right path. I just continue to move forward on this journey with pure love of music and the desire to create. I'm happy now. I only hope I get the opportunity to share my music with bigger and bigger audiences as I move on. That's my dream.
Another exciting project I am working on is the release of my full length ambient album, "Earth Tones". I've been saving up all my ambient tracks a full length album release. I'm excited to have it available for sale by Christmas time 2015! Having this album out will bring me a lot of joy, I have been working on it for several years. It contains 9 original tracks, half of them I composed by myself, and the other half are collaborations. I sing on most of them. The overall feel of the album is a relaxing journey beginning in a forest, through a rain storm, down into the ocean, and into the Earth. It comes with a 30 minute all-original visualizer and contains nature sounds. Allow me to take you on a musical adventure through changing shades of color and emotion. I hope you will take a listen! ^.^
Now I'm getting offline to work on AXION 013… I'm ecstatic about sharing this episode with you. Episode 013 is a special Trance tribute, starting with low BPM Electrance and working up to high energy old school high BPM Trance. In the middle, I have a preview of the Rockin' Mix of my original (not yet released) track, "A Way". I would love to hear your comments! Have a wonderful night and stay tuned <3