I feel so blessed. I can't believe my luck… or maybe it was some divine magical force that attracted me to this haven. I moved into my little country cottage in Canyon Country about an hour North of Los Angeles, in the mountains, about 6 months ago. Little did I know that I would end up live walking distance from some of the most beautiful nature trails I have ever experienced. In fact, the very road I live on turns into a nature trail at the end of it, leading off over a hillside, beyond sight the top of the hill takes you on a dirt road into the wild. My recent obsession has been going for marathon hikes with my puppy, Vesper. It's a real bonding experience for us. So far, the longest I've traveled through these trails was 6 hours… and I feel like I'm only scratching the surface (Click the thumbnails to enlarge).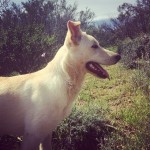 The trails seem almost completely private. The only other travelers I ever see are a group of elderly men who go jogging each Tuesday evening. They inspire me so much! Each of them must be over 70, each with very unique, striking features, and all of them with hair as white as snow. Yet, they jog along merrily, keeping a smile and a positive attitude. One of them always brings a milk bone for Vesper. In my imagination I picture them as elves or dwarves in the fairy tale in which I live. It's nice to see some humans along this path. It's far from crowded. Being alone is something I greatly enjoy, but knowing there are some people around, in the general area, is comforting. I guess I'm not a true hermit, though my Virgo side is quite prominent.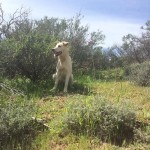 It's a good metaphor for life. Which path should I take? Or, in reference to the spiritual path… "Stay on the path", "all the paths are but one path", or "The spiritual path is like a razor's edge. It's easy to fall off, but once you come back you pick up where you left off". I want to bring a tent and go with a few friends next time, trekking for days, seeing where these paths lead. Sometimes I like to imagine I'm inside the book "The Lord of the Rings" when I'm out on these trails. Long journeys made by foot always excite me. Aside from the benefits of exercise, I truly feel connected with nature and my higher self. Out here, I feel anything could manifest. Perhaps one day I will run into Yogananda or Babaji … or some other ancient guru's divine spirit, and they will give me advice. Or perhaps the aliens will come. When I was out walking the other day with my dear friend Alex, we sensed their presence. Maybe that sounds strange, but when was the last time you were completely enveloped in wilderness for hours? There is nothing that heals faster, puts your life into perspective more quickly, than that. Once you are facing the elements, racing the sun to escape the dark or in need of food, life takes on a different meaning. In civilization it is sometimes too easy to forget that we are constantly surviving. Survival is delicate… in fact, all living things are constantly on the brink of death, working as hard as they can just to continue to exist. It's so genius, the way it's all designed. This planet is beautiful.
I have a charming little cottage and I have access to literally hundreds (maybe thousands?) of acres, and I don't feel like I need to own any of it… in fact, I am happier not owning this land. For anyone who is brave enough, or lucky enough to discover these trails which are completely open to the public, I am happy to share. There must be places like this all over, if you're willing to live in the country. Still, maybe no place is quite THIS beautiful, at least, to me. I've made Agua Dulce my home, and I love it. Thank you, spirit guides, for bringing me here. Thank you, universe…
What better inspiration for my music than this? As I walked along briskly I listened to my latest episode of AXION… 009 and had a series of revelations. Here were two of them:
"I am a spiritual person by nature, and divine light shines through me. Therefore, let my true soul image be known. I will show it through my carefully chosen words and actions from this day henceforth."

"What I stand for is so much more important than just a name. That is why I use a symbol of love and peace as my logo. Let me step aside, and may the divine light of truth and right action shine forth!"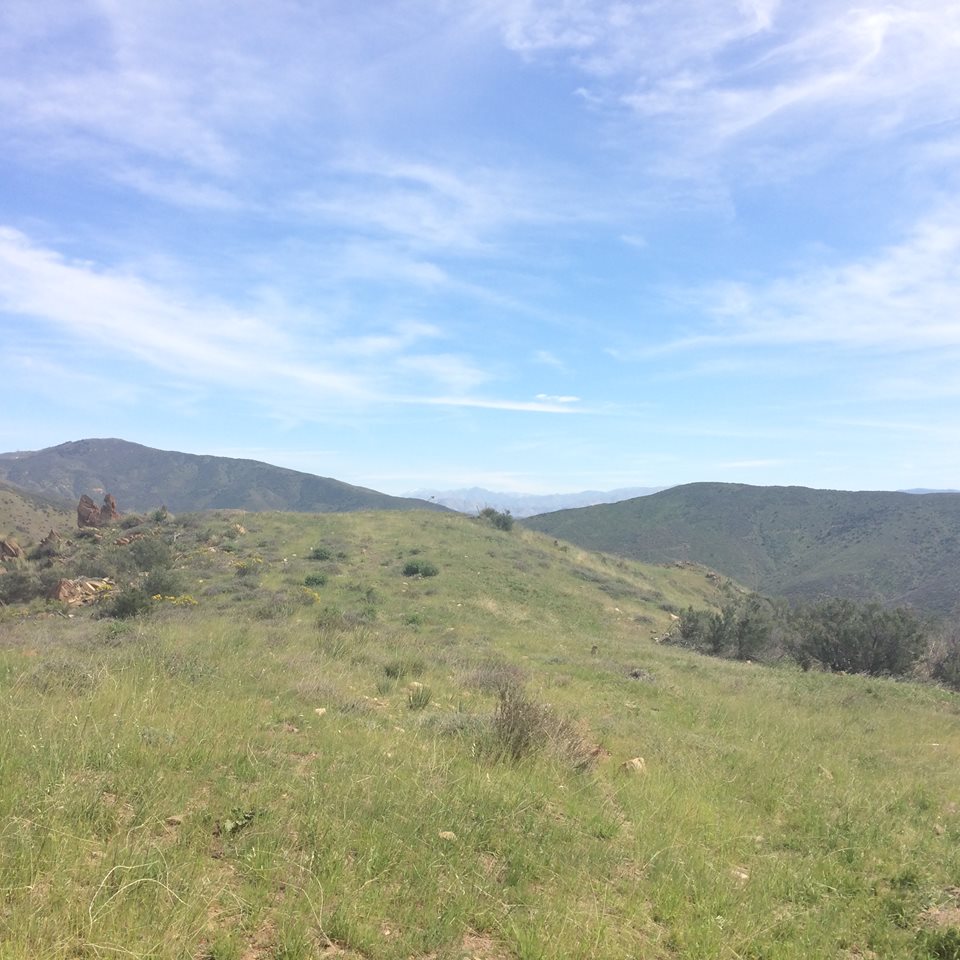 This bliss cannot be explained in words. I can't believe this place is real. And it's in my backyard…